SM027D - Teka - Chips EP (Part II) - The Remixes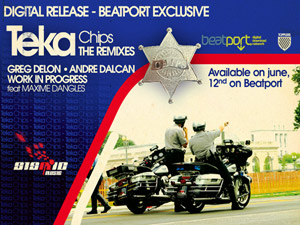 Let's do it again with TEKA - CHIPS EP - The Remixes - Available on June 12, with remixes from André Dalcan, Greg Delon and Work In Progress (Maxime Danglesc & Koni). Digital distribution for this remix pack only on Beatport June 12.
C'est repartit avec TEKA - CHIPS EP - Les Remixes - Sortie le 12 juin avec des remixes d'André Dalcan, Greg Delon et Work In Progress (Maxime Dangles & Koni). Sortie digitale uniquement pour ce part 2, exclusivement disponible sur Beatport le 12 juin.
Teka – neon (Work in Progress remix)
Teka – Chips (Andre Dalcan Remix)
Teka – Chips (Greg Delon Remix)
Feedbacks
DJ Chloé
Greg Delon Remix is stunning! would love to play it. beautiful beautiful. x
Adi Dumitra (Only Records)
The Greg Delon remix is amazing, deep and catchy, dark and housey at the same time, this will get my full support.
Gordon Hollenga (Disco Boys)
I like Teka.
Rick Warner
This release is definitely playable but not mind-blowing. Dalcan's mix was very Bangin' Ed Banger-y. Delon sort of went the Luca Bacchetti tribal minimal style and it worked well without pushing many boundaries. I really liked the Work In Progress mix as it had the 'freshest' <-- (stupid word) sound, meaning I hadn't heard that style being made much these days. Would definitely find a place for all of them in various sets.
Zlatko Dimitrijevic
Delon remix for me , good sounds and production

Thomas Kazey Prevost
The Andre Dalcan Remix kills it !!!
DJ Alexandar
Amazing tracks!!! Neon is my fav.
Kosmas Epsilon
Excellent pack once again, amazing electro-techno mix from work in progress. Peaktime bomb!
Lee Bradley
Nice release buddy, can definately give this my support

Flash Brothers
Andre Dalcan remix is good
) Like it
Marco Smith (TTR Magazine)
The Kolombo mis has been great for me, like the delon remix and the w.i.p rmx here.
Part 1 already supported by Laurent Garnier, Miss Kittin, DJ Chloe, DJ Sultan, Flash Brothers, Liz Cirelli, Bogdan Taran, Kosma Epsilon, Kenny Wee, Ian Robinson, Michael Paterson, RED-EYE, Lorenzo Al Dino, Magma crew (It), Mico ...